Expressive photography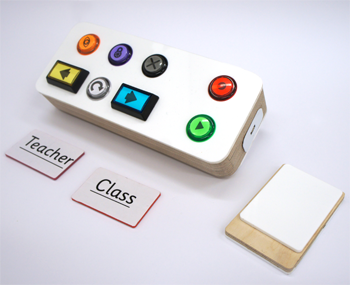 The expressive photography project was an Experience-centered Design (ECD) inquiry into the photographic practices of a class at a Special Education Needs school scaffolded by five Creative Photography workshops. These workshops uncovered a number of qualitative considerations for the design of digital photographic tools to support interpersonal communication in classroom settings where the children have a broad range of complex special needs.
Additionally, the project led to the design and preliminary evaluation of a photo-sorting tool, which demonstrates how the aforementioned considerations may inspire and guide an interaction design process.
The expressive photography project was a collaboration with Abigail Durrant, Roisin McNaney, Thomas Smith, Matthew Kipling, Patrick Olivier and Kier Williams (Queen Mary University of London).
Publications
Durrant, A., Hook, J., McNaney, R., Williams, K., Smith, T., Kipling, M., Olivier, P. & Stockman, T. Interpersonal expression in the special educational needs classroom: An experience-centred design case study. International Journal of Child Computer Interaction, 2, 1 (2014), Elsevier, 34-47. Download
Durrant, A., Hook, J., McNaney, R., Williams, K., Smith, T., Kipling, M., Olivier, P. & Stockman, T. Design to Support Interpersonal Communication in the Special Educational Needs Classroom. In Proc. of IDC'13, ACM, 46-55. Download